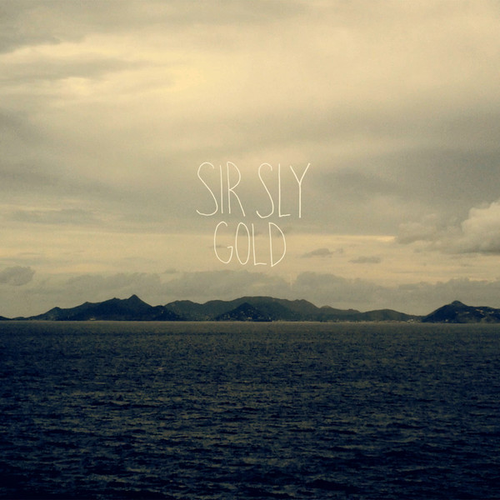 After a long day at work Mary Ann comes home, turns the heat up in her cold apartment, puts on a pair of comfortable sweatpants and a fluffy sweatshirt. She pours herself a glass of wine and grabs the Sir Sly EP Gold (Interscope Records) she bought recently. Sir Sly is an indie pop band out of Los Angeles made up of Landon Jacobs, Jason Suwito, and Hayden Coplen. The simple album cover portrays a golden toned coastline and cloudy sky. When Mary Ann removes the record from it's sleeve she sees that the band has cleverly chosen for it to be gold to match the title of the EP.
Mary Ann starts the album and Where I'm Going immediately transports her to a club she used to go to. The kind of place that doesn't have a sign and you have to know where you're going to find it. She closes her eyes and leans back nodding to the beat as the music kicks in. She notes the lyrics, "Back in the days, Boys used to play, And women were fearless, Now we're afraid stuck in the daze, Please don't come near us."
Gold is a track Mary Ann could easily see herself dancing to. It has a strong beat like the first track and yet has interesting elements making it feel more like an indie song.
Mary Ann flips the EP and Found You Out starts. This track still has a steady beat but is much less beat driven than the first two. It is as danceable as the previous tracks but has a more melodic feel to it. The break in this track makes it unique to the others and gives it it's own flavor. While having an upbeat sound, this song is about cheating and heartbreak, giving it a musical juxtaposition.
Ghost has a more emotional quality to it. The beat is slower making the lyrics even more prominent than the previous tracks. While it still has a pop feel to it, the lyrics make this track more serious than the others on the EP. It gives depth to what Sir Sly is able to do and provides confirmation for Mary Ann that she would be interested in hearing the full You Haunt Me album (Interscope Records).
The album ends as Mary Ann polishes off her glass of wine. She considers pouring herself another and starting another album, but knows she'll be better off tomorrow if she doesn't. Instead, she removes the album, returning it to it's sleeve, turns off her equipment and adds the record to where it belongs alphabetically. She puts her wineglass in the sink to wash in the morning and heads off to bed.