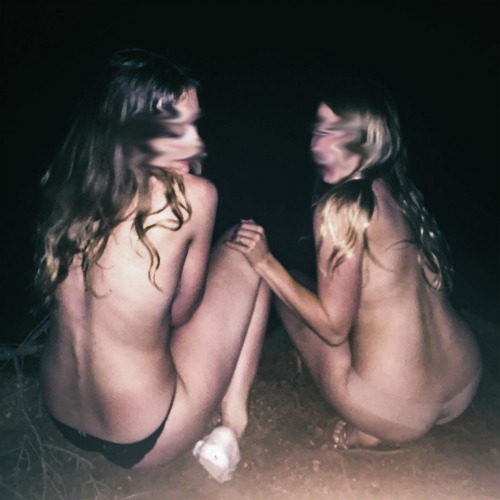 Bay Faction (Bay Faction)
Intro
The Indie music scene today is more complex, vibrant and diverse than ever before. In Philadelphia alone I've been to live performances by more than a dozen different bands over a period of just a few weeks. And herein lies the challenge for any new band; how do you differentiate yourself?
Bay Faction is a young Indie trio from Boston, MA consisting of band members James, Kris & Connor. This is apparently their first full length album. I'll admit, I really don't know much about this band, heck, I don't even know their last names, except for frontman, guitarist & lead singer James McDermott.
I first read about Bay Faction on "Modern Vinyl", a website that I read almost everyday to learn about the latest news & releases on vinyl. Being a sucker for limited run releases on vinyl, when I read about this band's self titled album I hopped on over to the "Counter Intuitive Records" website and was pleased to see a very reasonably priced offering for just $10…..SOLD!
The Music
Whenever I'm faced with an artist that I'm not familiar with, I resort to services like Spotify, Soundcloud, Bandcamp, YouTube, etc. to see if there's any material out there which can help me get a sense of the artist or band's sound; this time around I listened to Bay Faction on Spotify. Within a minute into the opening track, "Bloody Nose", I decided to give this band a try and bought their record.
What's most striking about their songs is that the lyrics appear to be not only anecdotal but also very relatable. "My home felt like a hotel, its chemical…." brought back vivid memories of my own experiences when I used to live with my parents. "I started catching feelings for the girl that i'm currently having sex with, so it's safe to say we don't talk anymore…" seemed like a page out of my own book. All in all, I found every song to have some story, some truth and some relatable memory. Maybe this was a conscious effort in songwriting or just an accident, but it definitely helps to make songs not only listenable, but also relatable to the point that you almost always want to sing along.
Another intriguing aspect about the songs is the almost constant mention about a character named "Jasper". While tracks 1, 3 & 7 have some indiscriminate references to Jasper where he appears to be some kind of a ghost, track 8 is entirely dedicated to this enigmatic character. I'm not quite sure who or what Jasper is, but when I checked Bay Faction's bandcamp page, there appears to be an EP titled, "Jasper" that I'll be listening to very soon. To say I'm curious would be an understatement!
Personally, I found "Bloody Nose" and "Sasquatch .22" to be the most stand out tracks on this record. On "Sasquatch .22" the cymbals are exceptional and the track is just very lo-fi, broody and downtempo with a very lights-out mood.
Lead singer James McDermott has a voice that complements the band's musical style exceptionally well. He does seem to have an affinity for, "Whoa-oh-oh", which finds a place in some form on pretty much every track on this album. Overall, it does feel like the band sticks to a certain "formula" sound which leads to a very consistent and homogenous sounding album. While this can prove to be boring and one tone, Bay Faction does an excellent job of avoiding that characterisation by writing songs that are short and meaningful.
To me, listening to this record from start to finish feels like listening to "The Xx" but with a variation in tempo and energy and this is not a bad thing at all!
The Record
Pricewise, as mentioned earlier in the review, this record is priced extremely well at just $10 + $3 S&H. The record is limited to only 500 copies with 250 being on white and the other 250 being on regular black vinyl. The album is also available on CD ($5) or as a free download (yes FREE!) should you choose to get it from bandcamp, but I definitely urge you to pay for the music as 100% of the profits go directly to the band! Such an anomaly in this day & age. At a time when even well established artists resort to price gouging for music released on vinyl, I'm not exactly sure how Bay Faction managed to pull this off. Kudos to them and Counter Intuitive Records for making their music so approachable to music lovers.
With regards to packaging, this is a very simple affair. The album cover is of normal thickness with a very curious album art sporting two naked girls in the wilderness at night. The record is enclosed in a paper sleeve and is accompanied by a lyric sheet. Unlike other lyric sheets that I've seen where the lyrics are printed under each song, this sheet reads like a single sentence as though the entire album is a story!
Coming to sound quality, I'd definitely say the record sounds good. After cleaning the record on my Okki-Nokki, I didn't hear any pops or clicks whatsoever and overall the record is very quiet. The only time I heard some hiss and pops were on the lead out grooves on both sides. While this record doesn't have the dynamics and openness of some other records I've listened to, I can't say the album sounds digital. There is a hint of compression in the sound with the soundstage being slightly narrow and the treble lacking the etch, clarity and definition that I would have desired. Drums tend to have a bit of a loose, woolly sound, but overall the bass is very good. Comparing the record to the FLAC files, I definitely felt that the FLAC files had better treble definition and clarity. While the difference isn't huge, it's noticeable. This makes me wonder if there was something along the vinyl mastering process that may have caused the change in sound quality.
Despite these nuances, I definitely encourage you to buy the record for the exceptional music. The FLAC files are a free download, so it's a win-win!
Conclusion
Over the years my record collection has steadily shifted from known bands towards newer music from relatively unknown artists and I'm really happy to have made this shift. I not only continue to discover a lot of great music but also take pride in putting together a diverse and eclectic record collection. Bay Faction has been a healthy addition to my library and I definitely recommend buying their record. I'm personally very excited to see what they have in the pipeline and without doubt would go and watch them live should they happen to perform in Philadelphia or NYC.