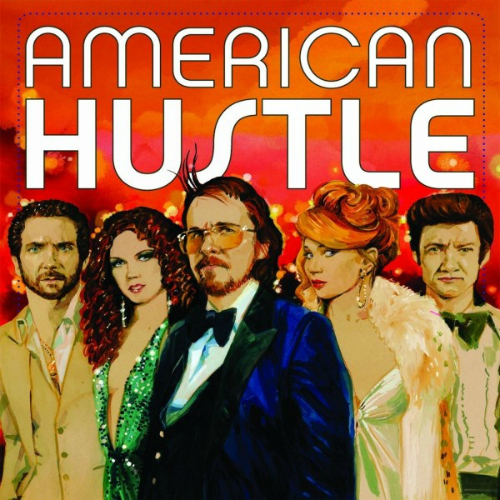 American Hustle Soundtrack
Record Store Day (RSD) is one of those occasions that can send any record collector, aka "Vinylphile", into a frenzy. You narrow down your picks from the selection of RSD specials, zoom in on a familiar record store so that you know exactly which shelves to run to and then of course, come rain, snow or shine, make sure you get there ahead of time only to find a queue of passionate vinyl nerds that has already formed way ahead of you. OK, maybe when I say "You", I really mean "I", but this pretty much sums up my Friday morning of November 28th, 2014 which was not only RSD 2014 but also Black Friday, a day I absolutely abhor for shopping. Lucky for me, the turnout at AKA Music in the old city neighbourhood of Philadelphia wasn't very overwhelming, but it did consist of people who knew exactly what they wanted, so I was mighty pleased when I managed to get my hands on the RSD first release of the soundtrack from the film American Hustle.
This film has it all, plunging necklines, ugly men with hot women, receding hairlines, funky suits and best of all an excellent soundtrack. The film and its "over the top" storyline didn't do much for me, but its excellent choice of songs kept me tuned in right to the end and this RSD release was exactly what I'd been waiting for.
Over the past many years I've come to the realisation that the best music compilations come in the form of film soundtracks. They are generally well curated and excellently mastered as opposed to many third party compilations of questionable quality. The soundtrack of American Hustle is no different, but what makes it particularly interesting is the vinyl package which seems to have been put together very well.
Priced at $39.99 this isn't cheap, but the quality of the vinyl and packaging are quite excellent. This release consists of a 2xLP gatefold with some really nice photographs on the inside as well as on the vinyl sleeves, but no poster or liner notes whatsoever. I was really hoping there would be some literature on what went into the curation of these songs and how they were mastered. The records themselves appear to be 150g audiophile grade and are coloured vinyl, LP #1 in Red & LP #2 in Blue. The entire package feels quite substantial in your hands and definitely felt like money well spent to me.
As is practice for me, I cleaned the records (Yes! I clean new records as well, I've already explained this to my wife, she'll gladly address any further questions on this matter) on my Okki Nokki and then proceeded to play them. As I dropped the needle on the first record, I was greeted with Duke Ellington – Jeep's Blues, in beautiful stereo glory and was immediately transported to the scene where Irving Rosenfeld (Christian Bale) makes his move on Sydney Prosser (Amy Adams), kind of reminded me of my first date with my wife. What struck me about this record was its sound quality; with a wide soundstage and a smooth top end, the music just leaps out at you and never feels harsh. I'm not really sure what the source of these recordings are, but I wouldn't be surprised if they're mastered from digital. Needless to say, I don't really care as the end product is really good. Unlike other compilations I've heard, at no point did the sound ever come across as "digital" to me. The sound is very resolved and slightly warm which makes it very easy to listen to and this is very important when you consider the 55 minute duration of this soundtrack.There is a complete lack of surface noise and this only makes the experience that much better. Songs like Steely Dan's Dirty Work & America's A Horse With No Name are very acoustic and this record lets these songs shine through. Overall, along with the great sound quality, the tracklist has a great ebb & flow and is a marvelous compilation of masterpieces. This isn't a typical mix that most people would have thought of putting together, yet on this soundtrack, it just works!
In conclusion, even if you didn't enjoy the film, this soundtrack is definitely worth having. But having it on this RSD special release vinyl is just that much more special.