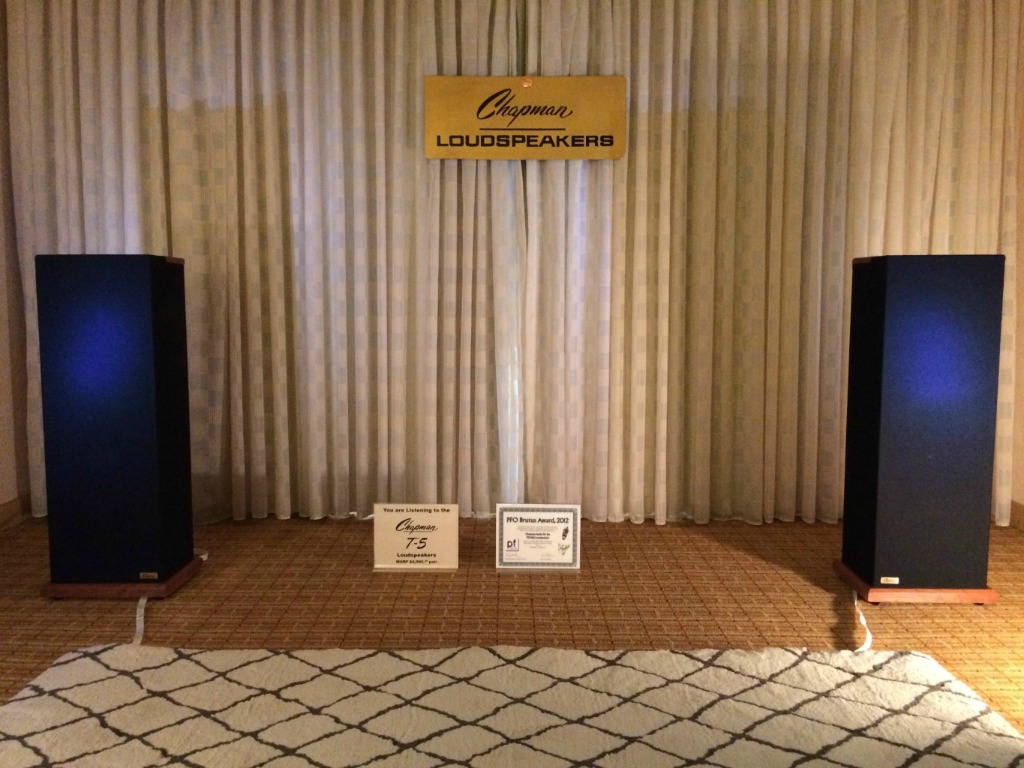 Sitting down for the Chapman T-5s was an absolute pleasure for a number of reasons. Right off the bat, I was greeted with great sound from top to bottom and a level of dynamics that made similar priced systems I listened to, sound safe in comparison. Rated at 4 ohms and a sensitivity of 89db would probably have you thinking you need to reach for gazillion megawatt amps to get these to sing, but with a moderate 150 watts in this room, we had enough thunder to peel the paint off the walls. Despite standing just a few inches taller than my own Gallo 3.1s at 40 inches, you might think these speakers would suffer from a shorter soundstage. However, the T-5s had the ability to touch the ceiling when asked and gave me all the detail I was looking for. These were without a doubt one heck of a stand-out speaker at the show this year. Ron Brenay
While my work would have been much easier if Chapman stole the show in the $5k category, it would have also made my work incomplete. As newcomers Ryan Speakers didn't just knock on the door at RMAF this year, they kicked the door clean off the hinges with their R630's. These babies won me over with an incredible midrange presentation and natural sounding top end extension that could even be described as perfect. Sitting through a number of musical selections I was amazed at just how well these speakers imaged and if soundstage, depth, and width is what you're after, look no further. Combined with the fact that the drivers are all designed in-house and the speakers are hand-crafted in California, the only thing that seems to be missing is a few more zeros on the price tag! Well done Ryan brothers, we welcome you with open arms and ears. Ron Brenay
Keeping things rolling in the 5k category is the Audio Kinesis Zephrin. While the looks of this speaker might not be for everyone, this Z-shaped cabinet has a method to its madness that worked very well in my listening session. Utilizing an LCS, or "Late Ceiling Splash" in the back behind the Z, we have 4 soft dome tweeters and 2 6" woofers. They are carefully calculated to bring late arriving music up to speed making a coherent sound that is pretty infectious. These guys have giant sound that literally wraps around you in a blanket of warmth and rich tone that's tough to ignore. While I felt the previously mentioned Ryan 603s had better top end detail, these won me over with a larger-than-life soundscape. Bottom line folks, rated at 92db sensitivity, these might be one of the better sounding speakers for systems that already have gobs of detail and need a little more oomph in their music, especially if you are running lower wattage tube amps! Ron Brenay
Making my way down the back roads at RMAF, I found myself pretty interested in some out of the box thinking and approach from Tubs of New Zealand. I couldn't help but find myself impressed with the approach, design and ideas being put into action. Seems to me that all too often we are seeing more and more companies slapping some speakers from parts express in a wood box and calling it a revolution. Meanwhile Tubs is wading deep into the unknown with paper pulp cabinets bound together by pine resin. If thats not intriguing enough for you, try this on for size; "the horn is mounted to the woofer pole piece couples the compression drivers message to the room and serves as a phase plug for the woofer which allows it to reach higher, so the compression driver can focus more on high frequency business." Oh, and to make things even more interesting, these guys offer several "profiles" so you can switch the wood horn just as easy as good ol' fashion tube rolling. As far as I am concerned, as long as tubs can continue to innovate like this, we all better prepare for more epic appearances from New Zealand. Ron Brenay
Alright folks, as you know I am all about those little glass globes called tubes and anything analog is right up my alley. Because of this, this room spoke to me immediately. Robert and I discussed our love of old school methods of building gear that not only sounds incredible, but is made to last. I suppose it makes sense that the team from Rogers feels so passionate about this approach that they are willing to stamp a lifetime warranty on their products that is also transferable. Both integrated amps looked like they were equipped with everything you would ever need and enough power to handle just about any load on planet Earth. Toss in self bias, front inputs and a finish that would win awards in a jewelry making contest and you have a real contender in the amp market. The EHF-200 mk-2 really caught my eye with the triode/ultra linear settings and the ability to drive as a power amp using a pre input bypassing front end. Oh, they also toss in a remote control that could alternately be used as a billy club for intruders. These folks have considered everything. Also on deck is the new PA-1A Phono Preamp that instantly won me over with its 50s era retro styling but lets be clear, this ain't a candy wrapper over yesterdays design. This phono has all the features that modern designs come with such as front panel loading for resistance and capacitance and front VU meters to keep an eye on cart diagnosis and resolution imbalances. Bottom line, Rogers Fidelity has me hooked, line and sinker. I would love to spend some time with this gear and do a full blown review at New Record Day. Ron Brenay
Volti Audio, Triode Wire Labs, Border Patrol
If Volti Audio, Triode Wire Labs, and Border Patrol Audio have one thing in common, it would be the fact they certainly know how to make a room sound remarkable. Sitting down in room 1102 was one of those rare moments when I hear something that captivates me to the point of no return. Music poured out of these speakers with a tone that can only be described as rich, focused, 3-dimensional, engaging, and most of all, united. I have heard enough horns to know that many will check all the boxes in the bass, midrange and treble department but bridging these together with such effortless magic as Greg accomplished with the Volti Audio Vittora's left this reviewer gobsmacked to say the least. I am not kidding around here folks, if you are tired of listening to speakers and want to know what it's like to experience music, Volti Audio is door number one. On your way to music perfection you might as well take into account that as Greg mentions in this video, there are other forces at play to bring this level of musical enjoyment to the mix and it certainly doesn't shock me that the well known and respected Border Patrol was reporting for duty. Tie this package together with an NRD favorite cable company "Triode Wire Labs" and you now have the holy grail in high fidelity. If you head back to room 1102 right now you will most likely find them replacing the carpet from the nail scrapes as they tried to pull me out of that room. Incredible work here and easily deserving of the RMAF 2014 Ron's Pick Award for Best in Show.
Ron Brenay
Volti Audio, Tortuga Audio, Triode Wire Labs, Border Patrol
Room 1022 featured a passive front-end from Tortuga Audio called the LDRx. As LDR's are becoming more and more popular, startup companies are jumping on the coat tails of guys like Morten Sissener. Meanwhile, he is busy leading the pack with his 3rd generation design, which addresses a number of past challenges that these light dependent resisitor networks have been plagued with. As described in this video, the LDRx has built in auto calibration that takes approximately 10 minutes keeping your gear in check and the music flowing with unrivaled purity. Bring Pete Gryzbowski into the mix, with his Triode Wire Labs cable loom and his new digital power cord, and we now how have a front-end prepared to sweep up the teeth from dropped jaws as they leave room. As I sat down and listening to "St. James Infirmary" played by Louis Armstrong, I literally couldn't stop giggling and quite frankly didn't care what scene I was creating as music caused me to swoon in ways only my lovely wife has been able to previously achieve. While most novices with half a decent set of ears would have attributed all this magic to the Volti Alura's, my experience would have to argue and declare that while Greg Roberts has made some incredible speakers that speak straight to my soul, he couldn't have reached it with such precision without the help of his friends. Well done gentlemen, can you please mail my teeth back now?
Ron Brenay