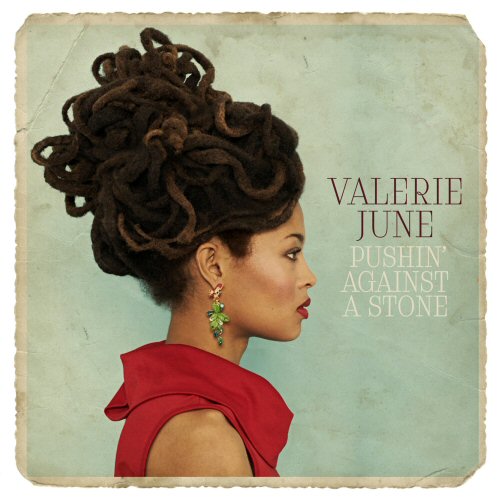 Valerie June (Pushin' Against a Stone)
It's Mary Ann's day off and she's been itching for a new record. After her morning coffee she heads to a local record store where she can peruse the aisles. This particular store is her favorite because despite carrying a variety of new and used records, it does not smell like a stale dorm, but feels like someone's living room when you visit. As she walks in, Dan is standing at the register with a price gun and a box of 'New Arrivals'. He looks up at the sound of the bell, "Hey Mary Ann, how are you?"
"Good, anything in there for me?" she asks, motioning to the box.
"You're welcome to look, but I don't think so."
"I'll peek through these first," she says, nodding towards the already displayed records. As she flips through the first few racks she comes across an album by Valerie June. She tucks it under her arm, and continues flipping. Further down the rack she finds an album by Sallie Ford and the Sound Outside and an EP by Sir Sly. Tucking Both of these under her arm with the Valerie June album, she debates continuing further down the rack. Knowing she's reached her budget for the day, and that if she keeps looking, she will surely find more records, she makes her way back to the register. There she finds Dan, now fighting with the price gun that he's disemboweled, the stickers rolled across the counter.
Mary Ann laughs as she approaches asking, "Who's winning?"
"You know, I really can't stand this thing, but I can't come up with a better pricing method so, here we are." Pushing it aside, Dan reaches for Mary Ann's purchases, rings them up, and within a few minutes she's in her car heading home with a buzzing anticipation of listening to new music.
Mary Ann walks into her apartment, sets her keys and purse aside, places two of the albums she purchased on top of her record shelves, and begins opening the Valerie June album. The artwork is a highly contrasted artistic portrait of the the artist herself in profile. Pulling the record sleeve from the album, Mary Ann finds black and white photos of Valerie June and the band recording printed on one side and the songs' lyrics on the other, in lieu of liner notes. Mary Ann knows that Valerie June comes from a gospel background and has worked all over the Southern United States. She plays guitar, banjo, and ukulele, and draws inspiration from artists such as Mississippi John Hurt, Elizabeth Cotten, and the Carter Family. The artist raised $15,000 through a Kickstarter campaign to fund her album. Shortly after, she was introduced to Dan Auerbach of the Black Keys and though their intention was just to meet and write some songs, they ended up working well together and collaborating on Valerie June's debut album, Pushin' Against a Stone (Concord Music Group).
Mary Ann drops the needle on Side A of the album for Workin' Woman Blues and snuggles into her cozy listening chair. She is instantly transported by Valerie June's voice and the Blues-y Soul feel of the music on this track. Between the distinctive vocals and the trumpet, Mary Ann feels as though she is in the basement of a Jazz club. She can't help but tap her foot.
Just as she feels like she's getting a feeling for what this album holds for her, Somebody to Love kicks in with it's haunting, lonely sound of violin background music. The humming gives this track a spiritual gospel feel.
With the start of The Hour, the tempo changes yet again and Mary Ann finds herself swaying in her seat. It's a nearly involuntary motion to the catchy rhythm. The lyrics discuss the heavy subject of domestic violence, but it could be nearly missed with the upbeat melody if the listener isn't paying attention
Twined & Twisted has a darkness in the lyrics and the sound is incredibly stripped down as this track has just Valerie June singing and on the guitar. Despite the haunting quality of echoed vocals, this track still has an overall folksy feel.
As Mary Ann continues to listen, it is clear that Valerie June is capable of portraying a multitude of styles and periods. After listening to Side A and flipping the record to Side B, Mary Ann is happily surprised with Pushin' Against a Stone. This song has a decidedly rock feel to it and she can easily hear the influence of Dan Auerbach. Despite the musical difference on this track, Valerie June still pulls through her melodic vocals. As the title track of the album, it tells the story of her life's struggle to become a successful artist.
Trials, Troubles, Tribulations switches gears and gives that familiar gospel bluegrass feeling from Side A. This song was written by Estil C. Ball, an American gospel singer from the1950s to the 1970s. It has a quiet and respectful feeling with just the guitar being played, Valerie June singing and Auerbach doing backup vocals.
Shotgun showcases Valerie June's voice with the guitar feeling like an afterthought. This track feels seductive and sensual and yet the lyrics demonstrate a dark, dangerousness.
On My Way has a bluegrass feel accentuated by the violin and bass. The sound of this track make it one Mary Ann envisions singing on a porch in the summer. Yet, the gospel content of the lyrics make it a song one might expect to hear in church on Sunday.
Wrapping up the album, Mary Ann listens to the acoustic version of Somebody to Love finding this track has the all the quintessential elements that Valerie June has laid out through the rest of the album. Her raw voice and guitar skill are showcased, making this hidden gem a refreshing ending.
The album effortlessly weaves its way through eras and genres. Anticipation builds for the listener as they look forward to what might await them in the coming tracks. After hearing all of Pushin' Against a Stone (Concord Music Group), Mary Ann feels as though she actually knows Valerie June. These songs weren't just written to make money, they were written with the purpose of telling her story.
Mary Ann checks the time and removes the record from her turntable. Turning off the rest of her equipment, she adds the new record to her collection where it belongs alphabetically. Wishing she had time to listen to her her other acquisitions she reluctantly grabs her keys and purse and heads out the front door of her apartment.
Information about Valerie June is from http://valeriejune.com