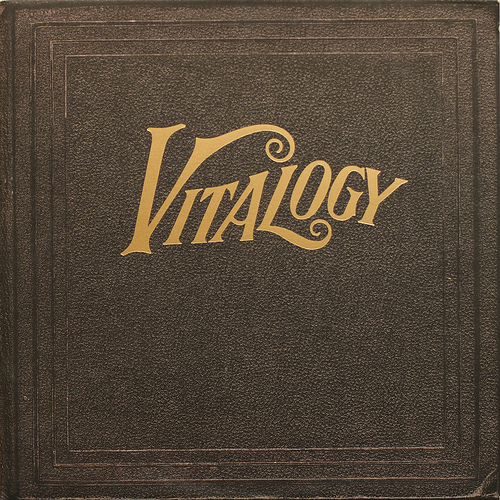 The vast majority of people reading this review know that Pearl Jam is my favorite band. Furthermore, this is probably my all time favorite PJ record. So, with that in mind, know that this review will be biased.
Jumping right in, it's visually apparent this album is different than the previous two albums released. The record consists of dark gray book that is thick and tattered, reminiscent of an old worn out novel. Tucked away inside the sleeve, you find a recycled booklet containing the lyrics, writings, and photos of inspiration for for the album.
Last Exit sets the stage, as every great album should. There is a sense of tension as the band begins to glue themselves together with what would sound like a garage jam session. However, as the snare snaps things into place and the guitars perform a relentless punch to the jaw of unstoppable sonic waves, its obvious this is not a garage band at all. Lyrically, it appears that Eddie Vedder is writing about death but perhaps he is using it as symbolism for the death of something else. While the song could have many different meanings, I have always thought of stand out lines like "Die on a hilltop, eyeing the crows, waiting for your lids to close… but you want to watch as they peck at your flesh… ironic that they go for the eyes first" mean he's eagerly waiting for something he has seen happen to die or fade away. I also noted "Let the ocean dissolve away my past" as it solidifies the idea that he's hoping for something in him to die.
Following the same pattern but kicking up the volume and throwing everything Pearl Jam has to offer, it becomes clear that the band is delivering an aggressive album and they are not holding back any punches. There is no rival to match the passion behind Eddie's plea for anyone willing to listen to the meaning of the song. Eddie screams, "See this needle, see my hand… dropping it down, oh so gently…" For the average listener, these opening lines could be confused with drug use, but that's one of the great things about Vedder's lyrics. Most of his songs are open to interpretation and have many "co-owners," as people have come to totally different conclusions as to what the song meaning is. This song is a manifesto as to why I am sitting here right now, Spin the Black Circle is simply about listening to records.
Not For You is one of my all-time favorite Pearl Jam songs. This song sets the stage with a toe tapping drum line that precedes a guitar that trails the drummer's lead notes as Ed begins to sing, "Restless Soul, Enjoy your youth…" This song is personal to me, as I have made it my own mantra as a Pearl Jam fan. After Ten and Versus, Vitalogy seemed to go in a totally different direction and many fans walked away, unwilling to accept the change. I have always looked at this song as Vedder drawing a line in the sand, saying these songs were not for them or me to begin with. "See my table, sets just two… got too crowded, cant make room, where did they come from, stormed my room… and you dare say, this belonged to you? This is not for you, not for you, never was for you"…
Tremor Christ might be one of the more challenging songs to review, as lyrically the song seems too complex to summarize as a specific feeling or emotion. The song tells a story of a sailor who is either fighting an internal battle or running away from a previous time in his life. The sailor could represent someone with similar challenges and knowing what to do with the little faith they have left and where to place the faith. As Ed sings, "turns the bow back, tows, and drops the line… puts his faith in love and tremor Christ" it becomes clear that there is a sense of resolution for the character in this song. Musically speaking, this is one of my favorite tracks on the album. The drums and guitars work so well together in a pattern that most bands would never stumble upon. The chord progression is out of the ordinary but somehow illustrates the songs story so well, it's hard to imagine it being done any other way.
Nothing Man was written by Jeff Ament. This ballad winds things down and allows Eddie to take center stage with a voice that just has to be heard. He sings the first verse low and climbs an octave higher for the second verse. The bottom line is that the song just sounds incredibly gorgeous. The band does its job with painting a sonic image of sadness and triumph at the same time and the lyrics tells the story of a man in prison, looking to escape and find happiness.
Whipping breaks the silence in full fury. With bass lines and guitars that grind in a fury that refuse to let you go, the song suggests and idea of abuse. This song is about injustice and it makes you want to break free of anything you feel is holding you down. "Don't mean to push…  but I'm being shoved… I'm just like you, I think we've had enough!"
Corduroy, like "Not For You", could be tied to Vedder's feelings on where he stands with fame and what it means to be free in his own art. As with many Pearl Jam songs, Eddie leaves the meaning of this track open to interpretation. This song is rocking and upbeat, making it borderline pop sounding through the chorus because of how singable the song is. However, the words are the key to this song and should not be glanced over as if they are just another pop song. If anything, the song lyrics reflect the exact opposite of this notion.
I'm willing to bet that "Bugs" is probably skipped over by most people, as the song seems more like a joke or experiment rather than taken seriously. As far as I am concerned, if the album Vitalogy was the question, this song would be the answer. All the songs on this album share themes of past experiences, moving on, or reflecting on past mistakes and regrets. This song seems to be the focal point for all these situations. Vedder sings "I see they surround me I see, I see them deciding my fate, oh that was which once, once up to me…" These lyrics suggest the idea that the bugs are eating away at him. If he allows them, they will dictate his decisions for him. Listen to this song and pay attention to the ending as Eddie comes to a decision on whether or not he allows them to take over.
Initially I was going to skip over "Satan's Bed" because it's a song I'm not comfortable with. There are very adult lyrics and its hard not to listen to it without feeling overwhelmed. The reason I decided to include it is because I discovered the literal translation of the song. I now have an understanding of what it is about, which happens to be the dark world of the modeling industry. "Who made who made up… made up the myth… that we were born to be covered in bliss, who set the standard, born to be rich" are standout lines that shed light to the notion that models can use their looks just to get by in life and not have to work for anything. These lyrics are challenging and the song's music fits the backdrop. As Mike McCready and Stone Gossard's guitars battle each other in rhythmic duos, Jeff's bass and the drums sync perfectly. The song drives hard and is ready to rock from the very beginning.
Better Man does not sound as though it fits on this album. It was written almost a decade before the album's release. The overtone of the song hides the irony in the lyrics. When Vedder sings, "Can't find a better man," he's sarcastically referencing his mother's failing relationship. Despite this track sounding different than the album, it caught a pop following. Regurgitated lyrics frustrated true Pearl Jam fans who understood the song's irony.
Immortality is a slow ballad that was written in response to the suicide of Kurt Cobain. Even though Kurt was not a fan of Pearl Jam's music, Eddie and Kurt had a good relationship. This song reveals some of the feelings that Vedder had in response to losing a great artist. This song is complicated and I don't want to try to translate it's personal content. The lyrics, "Cannot stop the thought… running in the dark… I'm coming up a which way sign, all good truants must decide…" share themes that appear throughout the Vitology album. This track is a graceful finish to the Vitology record.
-Ron