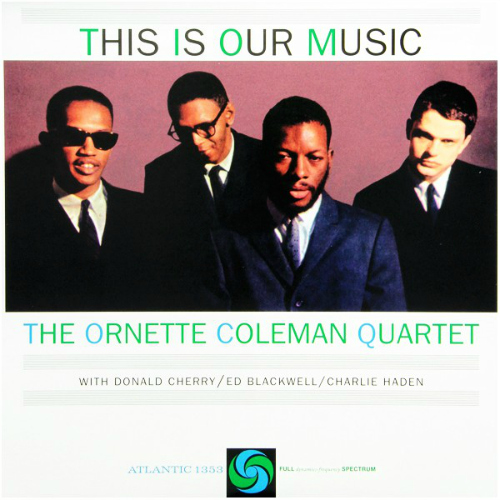 The Ornette Coleman Quartet (This is our music)
Frank Deckard
Contributor
The Ornette Coleman Quartet
This Is Our Music (Atlantic/ORGM-, 45RPM, 2 LPs, 180 gram)
Convincing consumers to spend $50 on any piece of music in 2014 is a rather iffy proposition; granted, having spent far more on some limited edition Blu-ray releases that I screen perhaps twice a year, that might not be such a rip-off if one were to play that album a lot over the years. The resurgence of vinyl has put a premium on quality and for the most part, that is a good thing. Why shouldn't something that is really extraordinary cost a little more?
If you're willing to spend $50 on a bottle of wine that you consume in an evening or on a decent steak, why hesitate when it comes to music? The reality is that music has become a commodity and with $0.99 downloads and Spotify, most consumers don't place the same value on music that they once did. Sad. Reality.
This Is Our Music is one of those rare pieces of music that has such significant historical value more than fifty-five years after it was first recorded, that it's worth the money. Groundbreaking material that confused and pissed off some when it first came out in 1961, but awesome cool like The Wire or Sons of Anarchy.
ORG Music's vinyl reissues are mastered (in almost all cases) from the original analog tapes; one exception would be the forthcoming "With His Hot and Blue Guitar" from the Johnny Cash catalog which was mastered from a high resolution digital master provided by Sun Records. Their reissues of iconic jazz and alternative albums from Miles Davis, Ben Webster, Sonic Youth, Nirvana, and The Replacements are all top of the pile.
All of their audiophile-grade records are pressed at Pallas Group in Germany and were mastered (EQ'd) by Bernie Grundman and cut by Chris Bellman at Bernie's Hollywood studio.
Quartet of Anarchy
Ornette Coleman was a musician before his time. He was unconventional and unrelenting in his pursuit of his own sound; very much like Thelonious Monk who didn't play by the rules or let criticism from his peers deter his creativity and originality.
Coleman hated playing standards on his recordings and it must have driven record executives at Atlantic Records off the deep end when he refused to do so considering his late start in the business. Ornette Coleman was Jax Teller/Tig from SAMCRO on a roaring Harley and nobody was going to tell this tremendous alto saxophonist how to play or with whom.
For This Is Our Music, Coleman replaced drummer Billy Higgins with Ed Blackwell but stuck with bassist, Charlie Haden, and the glorious trumpet of Donald Cherry. The four of them just pound through the material and while it doesn't always sound perfectly in time, the up-tempo tracks soar and the improvisation is first rate.
There is uniqueness to the melodies and the apparent lack of conventional structure, but Coleman knew exactly what he wanted and he got it. Cherry and Coleman, in particular on "Blues Connotation," "Beauty Is A Rare Thing," and "Poise," have wonderful synergy and feed off one another.
The recording has moments that will drop the jaw and the soundstage is pretty consistent throughout; Blackwell is pushed back and Haden's bass doesn't intrude into Coleman's space, which is pretty much in your lap depending on your system. Coleman's Grafton plastic alto sax had a very distinctive vibe (also used by Charlie Parker who pawned his brass sax to pay for heroin) and the recording conveys the tone with great bite.
The 45RPM vinyl reissue is a treasure and a worthy addition to any music collection for the performance alone. The sound quality is just gravy. Pure thick beef gravy on a homemade biscuit.