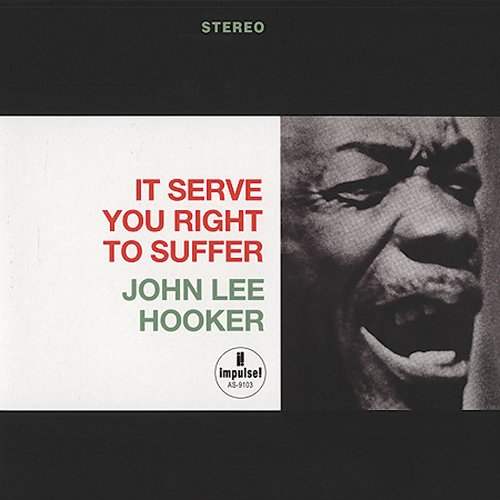 John Lee (It serve you right to suffer)
John Lee Hooker
It Serve you right to suffer
When Speakers Corner was kind enough to allow us to grab a couple of records to review, I knew John Lee Hooker's It Serve You Right to Suffer was a must have. While I don't consider myself a blues expert or can pretend I have covered much ground in the realm of the blues, there is something about the raw, stripped down feel of this album that speaks to me. I first heard this album when MOG was still around and was completely blown away by how good it sounded even on digital. Needless to say, dropping the needle on this masterpiece works wonders, regardless of my mood.
Kicking the album off is "Shake it Baby" which transports my imagination to a smokey club in Mississippi. Keeping pace with the kick drum, the sweat beads off my warm beer, dripping down the side of the glass. Its hot as hell but I don't care, the music is good. Panned hard to the left and dead center are 2 electric guitars that go the rounds with a staccato type of attack and seem to get pissy the more the song plays. There is an aggression to this song that works so well with the up tempo snare snaps that would make a crippled man stand up and dance his rear end off. Recording is scary good regardless of the fact this was done in the 60s. Toss on a pair of decent cans and you will clearly hear the room's reverb with every little detail you could possibly ask for.
"Country Boy" slows things down to a serious slow crawl and leaves plenty of room for in John's vocals to shine in the recording. There is a sense of air elevating off the snare that pops out of the mix like little hifi treats for your ears. "Country Boy" is a lesson of the blues taught by a professor who cant be challenged. There is a dark, musty strain in John's voice as he sings "I ain't nothing but a country boy, drifting from town to town" that leaves zero room for doubt. Thumpy, fat guitar attacks and a standup bass lay down a foundation of musical depth that's as good as it's gonna get.
As the album ages and John's legend lives on as one of the most influential blues artists to walk the earth, songs like "Money" will continue to stand the test of time. Each and every strum or staccato style pick attacks on his guitar is enough to captivate and hold your attention through the entire course of the album. Fidelity of the record is second to none and Speakers Corner has done a wonderful job at capturing this fine recording. If you are looking for what hifi can sound like without all the bells and whistles that modern technology can do with the press of a button and seek the blood, sweat, and tears that stacks up against the best, I suggest you take add this album to your collection. Highly Recommended.