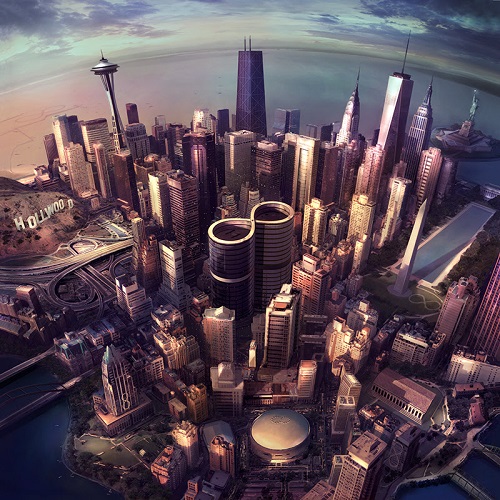 Foo Fighters (Sonic Highways)
Foo Fighters
Sonic Highways
Intro
It's hard to believe that it's been two decades since the death of Kurt Cobain and the rebirth of Dave Grohl, aka The Foo Fighters. Few bands have seen scrutiny, criticism and praise like The Foo Fighters and through all of it not only have they survived, but thrived.
Celebrating twenty years, The Foo Fighters released their 8th studio album, Sonic Highways, along with an 8 episode HBO miniseries which is an elaborate musical journey as the band travels through 8 different cities to record each of its 8 songs on this record (see a pattern yet?). What I found most compelling was that Grohl and his team chose not to make this about themselves but about the music and the musicians that have inspired The Foo Fighters through the years (Yes Pearl Jam, I'm talking to you!). Having watched the miniseries, I must say, its an amazing production that I appreciated immensely as a music lover. I found it to be not only insightful but also highly educational on many different levels. I also liked that every episode ended with the song that was recorded in that city and a karaoke style display of the lyrics that allowed me to quickly make connections to certain key references in the episode. This enabled me to form a stronger connection with the song, its subject material & sound.
The Music
The album starts with "Something From Nothing", a signature Foo sound that I considered as the perfect opening. Intended as a tribute to all things music, the lyrics on this track are inspired by the Chicago music scene and even allude to the "Great Chicago Fire" in its opening. Lines like "button on a string" pay tribute to the great Buddy Guy who is synonymous with the blues scene in Chicago. The low tempo "bud-a-dadum, bud-a-dadum, bum, bum, bum" crescendos to eventually peak with an explosion of drums & guitar and Dave Grohl screaming, "I'm something from nothing". At the end of this track, I felt the blood rushing to my head and my neck a little sore from the head banging, but I was ready for more. My appetite had just been whet.
The higher tempo, loud and punk-rock inspired, "The Feast And The Famine" doesn't disappoint. Going into high gear right from the beginning, it not only picks up, but also ramps up the tempo significantly from where track #1 left off. By the end of this track I was sweating, my heart was racing and I felt like I'd just run a 4 minute mile. I felt GOOD!
As the album progresses into the remaining tracks on Side A, the tempo slows down and settles into a more easy pace, the kind of pace that shifts you from jumping and head-banging into foot-tapping and head-bobbing. "Congregation" still makes you want to rock, especially as the track progresses into its 4th minute, but its like that track which you head-bang to at a concert while still sitting down.
"What Did I do?" feels more mellow and has an unmistakable country music flavour which I could taste most towards the end of the song. Unsurprisingly, this track features one of my favourite country musicians, Zac Brown, with whom Dave Grohl collaborated on "The Grohl Sessions". While listening to this track, I couldn't help but envision the end of a Foo concert with everyone waving their lighters in the air.
As Side A came to close and I flipped the record over to Side B, I was greeted by the deep and tuneful sound of the track "Outside". What immediately struck me was the eerie similarity that it had to "Everlong" and felt like a complete departure from what I'd been listening to so far. Intrigued, I went through the credits and was surprised to find "Joe Walsh" credited as the guest lead guitarist, who many of you might know famously as the guitarist for James Gang & The Eagles.
Apart from this one track, the rest of side B sounds good but was more or less unremarkable. "In the Clear" sounds very similar in its intro and tempo to "Congregation" and to be honest I was actually a little confused when I heard it initially as I thought I was listening to the same track from Side A.
"Subterranean" is an interesting song. It brings a considerable step down in tempo and is a song where Grohl gives the listeners a glimpse into his post-Nirvana journey. The opening lyrics of the song, "Nothing left within, I've been mined, Hell and back again, subterranean" couldn't be any more evocative and self explanatory of Grohl's experiences when he'd given up all hope of ever making music only to come to a realisation of how much he loved music and eventually return to the studios.
Ironically enough, this track flows without pause into the final track of the album, "I Am a River", an ode to New York City, the one city that, according to Dave Grohl, has it all! I couldn't agree more. What's great about this track is that its a very simple and uncomplicated track with lyrics that are open to interpretation by the listener. Also, what I particularly liked about this song was that it could easily be a track that could either be the lead-in or the lead-out to a concert, I'm glad that it was chosen as the finale to this amazing album.
To summarise, I found the album to be a great listen with a relatively smooth flow. When flipping over from Side A to Side B, the shift in tempo did make me feel like the album peaked a little too early and could have benefitted with a better spread of tempo, but this is a matter of personal taste. The truth is, I can't think of another album in recent times that I've listened to as often as this one. It's an album that I constantly keep going back to and it never disappoints.
The Album
Priced at $16.99, this record is priced well and should serve as a benchmark to every other band/record label out there. With the increasing popularity of vinyl, prices have seen a steady upswing with some albums reaching unrealistic and stratospheric prices close to and upward of $40 (Robert Plant, I'm ceaselessly roaring at you!). It appears as if the music industry is once again set to make the same mistakes that drove music lovers to the likes of Napster. I admire The Foo Fighters for making this album affordable without making any compromises in quality. The record is pressed on 180g vinyl in Pallas Records, Germany and is available in 10 different album covers. If you walk into a store and buy this record, you can choose from any version of the cover that might be available, but if you purchase online, its a gamble and there is no way to ascertain which version will be sent to you.
The album cover itself is made of thick card paper with beautiful graphics and photographs on both inside & outside. There is a very high quality sleeve for the record (photo shows a new sleeve used after cleaning) and an inlay with lyrics. The only gripe I had was that there was absolutely nothing which tells me about the concept or the goal of "The Sonic Highways", it would have really been nice to include some literature to that effect.
Sonics
Sonics on this record are top-notch and the record is extremely quiet with no bothersome pops or clicks. As always, I played the record only after it was cleaned on my Okki-Nokki RCM. In a time when most records have been mastered to sound loud, this record sounds great with excellent dynamics and without the slightest hint of compression. Although this album has been recorded across 8 different studios in 8 different cities, there is a certain sonic coherence and purity to the sound which makes it an easy listen across its entire 40 minute duration. In fact, the quality of this recording is so good, that it has now become a part of my reference collection that I use whenever I'm choosing or testing new audio gear.
Conclusion
Given the quality of music, the dedication that's gone behind its production, the sonics and finally the price, this is an easy album to recommend. Go and buy this album if you haven't already done so and I assure you that you won't be disappointed.